Our Strain Background Pedigrees
---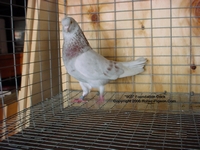 For informational purposes, here are the pedigrees provided to me by Sal Estrada regarding the background of the Ruby Rollers™ strain. Here is the route to follow going from my foundation cock LPRC-93-903 back to PRC-53-514:
903 --> 686/687 --> 609 -->661 --> 929 --> 4192 --> 3757 --> 514
Note the legendary roller fanciers in the background leading up to the Ruby Rollers™ strain. Our strain is second to none and descends down from many of the same birds used in other long established lofts :
Sal Estrada - Homer Corderre - Richard Apadoca - Dennis Gordair - Karl Krebs - Ron Kumro - Joe Houghton - Bill Torress - Richard Espinoza - William Pensom - Charlie Saldana - Hans Roettenbacher - Monty Neible - Mike Gordon - Dick Stephens - Bill Kamp - Bruce Cooper - J.Leroy Smith - Stan Plona
---
---
Click On Each Pedigree To See A Larger Version
---
---
WHERE APPLICABLE ALL ARTICLES, PHOTOGRAPHS, DISCUSSION POSTS AND COMMENTS ARE COPYRIGHT (C) 2004-2018 BY ROLLER-PIGEON.COM. ALL RIGHTS RESERVED. REPRODUCTION WITHOUT WRITTEN PERMISSION IS EXPRESSLY PROHIBITED. THE NAME "RUBY ROLLERS™" AND ITS USE IS PROTECTED BY COMMON LAW TRADEMARK. ANY COMMERCIAL USE OF THE NAME "RUBY ROLLERS" or "RUBY ROLLER PIGEONS" OR ANY SIMILAR RENDITION WITHOUT WRITTEN PERMISSION BY THE OWNER IS STRICTLY PROHIBITED.
---
No Credit or Debit Card? Why Not Purchase A Local Walmart Pre-Paid Debit Card With Visa/MasterCard Logo? We'll Accept It.